Created in 2007, Five Consult is a consulting firm centered on developing the potential of individuals, teams and companies.
Five Consult works with :
- companies :
working behind-the-scenes in giving advices on issues related to Human Resources or Human relationships.
in the direction of the company's Human Resources projects and activities.
- individuals
who want to
reexamine their career plans
.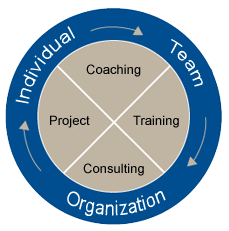 No matter what support is needed, Five Consult always accompanies individuals, teams or organizations in the optimization of the use of their own resources and in the development of their autonomy. It is indeed in full autonomy that individuals develop their sense of responsibility, efficiency and adaptability. All of these being important for businesses that are constantly facing changes.
Individual autonomy

individual performance

collective performance
Ethical behavior, professionalism, flexibility, pragmatism, transparency and respect are the key values of Five Consult.
To ensure the quality of the Human Resources or Human Relationships services offered, Five Consult actively participates in :
training sessions or conferences
professional exchanges among different HR networks
supervised coaching sessions
…
As many steps which are essential for ethical practice of the profession and for a regular update of our scope of specialization and of the competences that we place at your disposal.
Five Consult commits itself to accept only missions that are related to its specific competences. If needed, we will direct you to other active members of our professional network and suggest complementary collaborations.